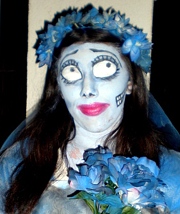 Face paint and Halloween make-up can tie your costume together in ways you never even imagined. In fact, it can really make your idea 'pop' and define your entire concept. If you're tired of hiding behind a mask or are unable to find one that suits your needs, don't worry – face paint can be used to create anything imaginable! Just like your ghoulishly-great costume, the potential of face paint is limited only by your imagination. So get inspired by these galleries, grab the brushes, and paint on so you can scare on!
Halloween face paint can surely enhance any costume, but what if you're trying to coordinate a group gathering or enjoy the night with that special someone? Become a frightfully-delightful duo through the magic of face paint! With even just a little, you can make your attempts at matching clear and create new possibilities. Rekindle your romance as an undead bride and groom – all it takes is makeshift formal wear and a little zombie face paint! Perhaps you want to terrorize the town as killer clowns or both of you want to role-play your favorite character, such as this Joker couple did. Not feeling so close lately? Dig in your claws and use face paint to become a ferociously-frightening lion and its unlucky prey. With a little paint, you can coordinate and pull your look together with ease.
| | | |
| --- | --- | --- |
| | Lion and Zebra |   |
| Glow in the Dark Paint | Dead Bride and Groom | Black Liquid Latex |
| | Medusa and Stone Man | Killer Clowns |
What makes a clown, a clown? The colorful circus make-up of course! There's a reason clowns are thought of as a common phobia – permanent, painted-on smiles and colorful face paint just seem to belie sinister intentions on some strange level. Whether you wish to be a good clown or bad, you can make your intentions clear with the magic of our paint and special effects range here.
Clown around as a friendly clown with these Crazy Clown wigs or recreate nightmares as an evil one. Color tone, bloody streaks, broken teeth and sharp accents can be painted on to create the perfect feel for your circus-inspired costume!
| | | |
| --- | --- | --- |
| Clown Bright | Evil Clown | |
| PennyWise Clown IT | Evil Clown | Clown Paint Kit |
'Doll' up your costume and define your look with frighteningly-fabulous face paint! Dolls are an icon of Halloween and Gothic styles. Thus, it is no surprise that doll costumes are a classic and popular choice. Of course, just dressing like a doll would be rather bland. Face paint can turn your skin to porcelain, much like this Halloween lover has done with her broken porcelain doll costume. You can create your own night of the living dolls and mimic your favorite toy. Simulate textures, add stitches, give yourself doll eyes or even make yourself into a "Nightmare Before Christmas" by copying the make-up of famous characters such as Sally! Sweet pink plaything or devilishly-dark doll, our paint and special effects range makes it possible!
| | | |
| --- | --- | --- |
| Freakin' Doll | Special FX Wax | Night of the Living Dolls |
| Sally | Creepy Doll | Scary Porcelain Doll |
| Liquid Black Out Tooth | Black Nail Polish | Broken Doll |
Nothing says Halloween quite like hordes of zombies and skeleton armies. It's not hard to throw some rags together and call yourself a zombie or buy skeleton-inspired costume pieces. In this case, the devil is truly in the details – accessories and paint! Give your skin that haunting, undead hue and accent it with blood splats, gaping wounds, scars or makeshift stitches. Look up examples and use face paint to expose threatening teeth or other bones like this decomposing zombie. Show off your 'inner self' like these scary skeletons with only simple black and white defining their forms! Indeed, the possibilities range from bare-bone minimums to incredibly elaborate effects, such as these zipper kits that seem to be conjured up directly from your favorite horror flicks.
| | | |
| --- | --- | --- |
| Drag Queen Zombie | Living Dead | Orange Spray Paint |
| | Decomposing Zombie | Nurse Zombie |
| Skeleton from Down there | Half Skeleton Bride | Skeleton |
Wake-up your tired costume idea for a night of Halloween hi-jinks! All it takes are some brushes and a little face paint. Beginners can impress with simple patterns and effects, such as in this Medusa costume, or imitate recognizable features like this feminine take on Two-Face. Even just a few simple strokes can help you capture that homeless look you're going for or add some gore to your Halloween scene. With a little practice, you may even master face paint and create costume masterpieces like this Avatar woman or redefine Wonderland as your rendition of the Cheshire Cat. Let your paintbrush be your magic wand and grant you a truly unique Halloween experience!
It's no secret from the lines at local fairs and events that kids love having their faces painted. This serves a handy double purpose for parents – make Halloween fun for kids and stretch costume ideas with some simple face paint! Your child will most likely want to dress as a favorite character or animal, and the task can be made much easier using paint. Perhaps your little ones wish to be their favorite Hollywood friends, such as these children who used face paint to become Papa Smurf and Cruella. Dress them as their most prized possession, such as this girl as a Lalaloopsy doll, and let a special, spellbinding night begin! Face paint can erase their innocent appearances, but one thing is for certain – it'll only make their trick-or-treating smiles bigger!
| | | |
| --- | --- | --- |
| PennyWise Clown | Mini Saw | Chucky |